And Your Bird Can Sing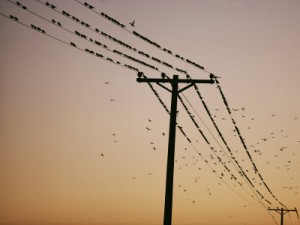 Not only has Twitter become the place to record one's every move and thought, it has also become a place that can extend the reach of a company's marketing efforts — and not just in the traditional sense of a business tweeting about its in-store promotions to followers. Nowadays, Twitter is often the centerpiece of a company's entire marketing plan, one that all of its other efforts revolve around.
For instance, in Los Angeles (where Media Needle is headquartered), we have a mobile food truck craze well underway, with various trucks serving various delicacies to an on-the-go crowd. The craze began last year with the Kogi BBQ truck, whose food fuses Korean barbecue with Mexican tacos to create a taste that busy LA denizens don't mind waiting hours in line to try. The traveling truck used Twitter to tweet about the locations where it would be stationed, sometimes only hours before its arrival. Other trucks quickly followed suit, making Twitter the cornerstone of their marketing plans in a way that rendered all other traditional modes of advertising irrelevant. Brick-and-mortar stores also joined the movement, offering such promotions as Twitter Tuesdays that give customers who mention Twitter 10% off their purchases. In addition, stores have begun giving their followers early access to new products and special promotions, an advantage that increases sales as much as it does subscribers.
So why does it work? With its 140 character count, Twitter is the perfect vehicle to publicize promotions quickly to a distracted crowd, as Web-savvy audiences have already learned how to tune out Flash graphics and banner promotions on a website. Twitter subscribers, on the other hand, make the active choice to follow a brand and read the tweets, creating a captive audience interested in hearing what a company has to say — and sell. Twitter campaigns are also far cheaper to execute, as they don't incur the costs of printing mailers or hiring graphic designers. With this in mind, we expect Twitter and other social media outlets to continue their slow but steady take over of marketing campaigns until traditional advertising becomes as obsolete as the VCR.
* Image courtesy of http://www.allposters.com