Cyber Monday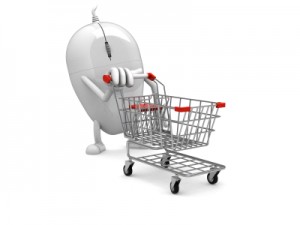 This weekend, Black Friday shoppers spent an average of $365.34, up from last year's average of $343.31 per customer. Total spending for Black Friday 2010: An estimated $45 billion. http://bit.ly/f5OWYe
In this age of the internet, however, retailers are expecting even more financial success on Cyber Monday, a more recent phenomenon. Since 2005, the Monday after Black Friday has been called the "Biggest Online Shopping Day of the Year," with many consumers making their purchases from home or (more likely) from office computers.
The most trending topic on the web on Thanksgiving Day was "Black Friday Ads." Not surprisingly, this year, retailers are taking advantage of social media to increase their sales. If you "like" certain retailers' Facebook pages, you'll have access to special deals.
If you like the Sears' Facebook page, for example, you'll also "have the power to unlock great deals."
When you check into Sports Authority using Foursquare, you can win a $500 gift certificate.
Many small retailers have also been using Cyber Monday as a chance to connect with consumers using personalized tweets, moving past the assumption in earlier years that this online shopping day is for big businesses only.
In fact, this Cyber Monday is looking to be the perfect time for many under-the-radar businesses to launch themselves into a bigger market by using their social media savvy. Here, some tips for businesses on how to incorporate social media into their Black Monday advertising: http://www.fruitzoom.com/2010/11/cyber-monday-37-tips-to-leverage-social-media-zoom-monday-sales/ By leveraging social media and internet marketing for both online and offline traffic, businesses can up profits and internet presence.
This week, Best Buy has used Twitter to inform shoppers of bargains, but in a more resourceful use of social media, they are also using Twitter as an instant customer service solution. The company has their Twitter accounts staffed and ready to answer questions about problem purchases … all in 140 characters or less.
Check out the best deals, from electronics to sporting goods and apparel to gardening supplies, on http://www.cybermonday.com/