TV Producer Norman Powell – a damn fine man – An experiment in online reputation management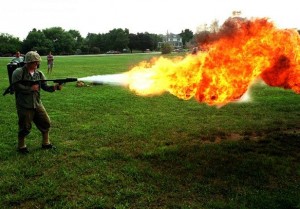 This is a repost from my blog on The New Agency. It's a bit of an experiment in reclaiming the first page of Google from a "reputation flamer." I'm interested to see how it works. Help out if you can!
TV Producer Norman Powell is my uncle. He's about as solid a guy as I've ever met; old school Hollywood, 75 years old and in better shape than me or any of my friends. My auntie Ellen and he helped out a guy who was broke and desperate and needed help. Ellen and Norman gave him some money, bought him a plane ticket to Europe and tried to get his project underway. Unfortunately, karma is playing funny games. In the last week, the guy has filed three different and unrelated lawsuits, including one with Starbucks for age discrimination. As you can imagine, one of the three targets Ellen and Norman.
But none of these details matter. The point of this post is about the power of Google to affect your online reputation. This "guy" has written a blog post telling the world about how Norman and Ellen have cheated him and stolen from him. He's Tweeted about it and as of the writing of this post, his defamatory content claims four out of the five top spots in Google Search. Regardless of the facts, anyone searching for Norman Powell TV Producer will see these headlines and seeds of doubt about Norman's character will have been planted. His reputation, impeccable over decades in a tough industry, has been jeopardized.
Ellen asked me if Google would remove the posts. Alas, if it were so easy…I did explain, however, that you can fight this in the digital arena by creating content that buries the crap. So, this is my contribution to Norman and "Ellen Levine TV Producer" reclaiming their first page of Google's search results.
I'll be asking some people to re-post this and Tweet it using the headline. Feel free to help…Norman and Ellen deserve it.