No more free advertising for facebook and Twitter.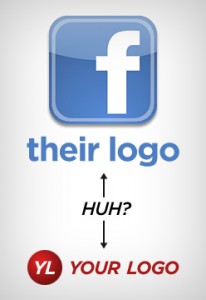 Everywhere we turn, we hear how businesses are hurting. Ad budgets are shrinking, fast. People are worrying if they can make payroll and keep locations open, yet everybody has money to promote facebook and Twitter.
What gives?
Last I heard, facebook and Twitter were doing okay. They have billions of dollars. They are working to take over the world. And guess what? They don't run ads. They know that social media works organically. They also are enjoying the fact that companies, large and small, promote them for nothing, giving their logos all kinds of real estate not only on their online properties, but on their traditional print and TV ads.
Sure, you want people to know you're "with it…" "Visit us on facebook! Follow us on Twitter!" Sure, if you're online you can include a link, but anywhere else, print, radio, TV, let's take a breath and reconsider. While it's nice to make things as easy as possible for the consumer, people who are really using social media will know to look for you there.
If your brand has something to say, people will listen. The problem is, having something to say is a lot harder than putting a facebook logo on an ad. Of course facebook and Twitter are powerful tools, but we don't need to sell the category. People are really into this stuff. It has become the fabric of their lives. And they know when you are just pretending to be in the space and when you are really utilizing it. The challenge is understanding how to spend the time, energy and resources to do something meaningful on facebook and Twitter.