So, Where's Your Hot Spot?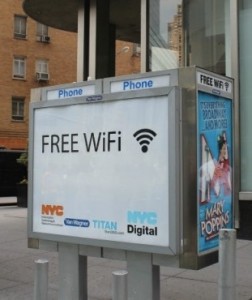 New York City is soon to be the home of over 12,000 hot spots and we're not talking nightclubs, restaurants, or tourist attractions. In July this year the city launched a program converting pay phone booths into free public WIFI hot spots throughout its five boroughs.
The network appears as "Free WiFi" or "NYC Free Public WiFi" on wireless devices and the signal spans up to a 200-foot radius. A password is not required, however once opening your browser you will be prompted to agree to the terms and conditions before being able to surf the internet.  Currently there are six booths in Manhattan, two in Brooklyn and one in Queens. You can find a foursquare map of the WiFi-equipped booths here. (https://foursquare.com/nycgov/list/nyc-public-wifi-hotspots)
Turning these large pieces of outdated metal into high-speed Internet oases did not replace the pay phones' original functionality, just made them more relevant for today.  This is especially great news for the NYC metro traveler, who is now starting to gain underground connectivity at many subway stations. Furthermore, it is not costing the city or it's public a dime. NYC's Department of Information Technology and Telecommunications along with Van Wagner and Titan, the advertising companies providing the booths' ad campaign have worked together to absorb all installation, management and customer service costs.  In a statement, the city promised, "no personal information will be gathered and no advertising will be presented as part of the pilot program."
NYC residents and visitors will enjoy more and more hotspots as the program continues over the next few months making NYC not only one of the greatest cities in the world but the most connected.