TedxHollywood March 2013
What I heard with my eyes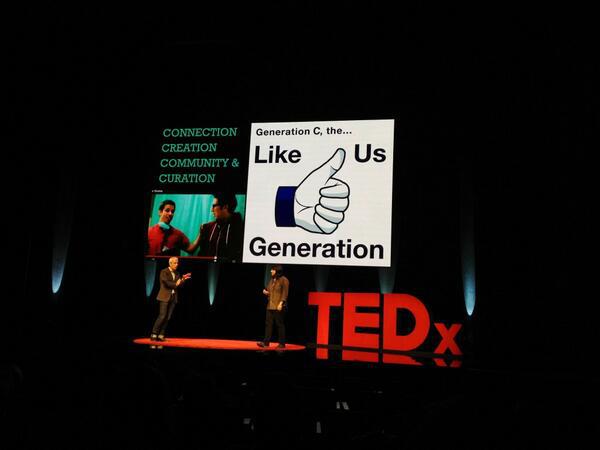 My first experience with @TedxHollywood was a great one. Ken Hertz, partner of Hertz & Lichtenstein Media Law put together an impressive event with his own Rolodex. The theme of entertaining and connecting with audiences was on point and broken into a few segments: everyone is a media company; succeeding outside the system; storytelling that drives change; sci-fi comes to life. The event had about 400 attendees, including media, music and film artists, technologists, established business innovators, start ups, lawyers, dealmakers and curious geeks.
Some of my highlights and favorite quotes of the day –
@AngelaAhrendts, the CEO of Burberry, talked passionately about human energy and how it transforms companies and communities. She is also a fellow Hoosier (@IndianaMBB, great season, tough loss last night).
@Mojism, Moj Mahdara
 of Made With Elastic, gave a cool preso on the Like Us generation being all about the content, curation and commerce. She feels we are headed toward transactional entertainment and contextual commerce!
@KenHertz had a few great lines as the MC; my fav was "people think that not getting caught in a lie is the moral equivalent of telling the truth".
Rachel Shechtman of @ThisIsStory described retail media according to her 3 key pillars of content, commerce and community. Her Manhattan store sells stuff from start-ups, likened to a smb online community but in a physical store. Smart thinking about experience per square foot as a metric, not the traditional revenue per square foot. The heat-mapping analytics she uses shows companies what's hot or not and allows for a/b testing prior to a product launch, the coolest thing I have seen in awhile.
Jared Gutstadt @JingleJared 
of @JinglePunks was a hit with his tenacity to not give up on any and all things related to getting indie music licensed. His real inspiration with wwwad (What Would Weird Al Do) was humor and worked well for him. Impressive story about how he got through to the CEO of Yahoo re. elevator music and got a deal done!
Dick Glover 
from @FunnyorDie wins with the 3 prong approach of keeping the cost of great content creation and marketing low and not being like Kevin Costner.
@KinaGrannis
 an impressive musician with a great story about how she won a creative contest during the Super Bowl, got a deal with Interscope and then preferred making it happen without the man but with the fans.
Doug Carmean of @IntelLabs delved into how sci-fi comes to life and the age-old question of whether machines can love, based on some old-school mathematicians and their pioneering artificial intelligence experiments http://www.loebner.net/Prizef/loebner-prize.html  http://www.turing.org.uk/turing/
Nadeem Kassam of
 @BioBeatsLive connects algorithm w biorhythms to create devices that adapt to your current state of being, aka Adaptive Media. Technology can alert you of things you feel. For example, a device that would change the music you're listening to if your significant other walks into the bedroom, based on the shift in your mood/feelings.
Mike Hawley
, a digital pioneer and doer of things at a scientific level (such as inventing an improved stitching machine that inkjets various colors so the user doesn't have to change the thread, known as dye on the fly) thinks in a cool-ass way (from object oriented cooking inspiration to Minority Report screen/search tech development). He lived with Steve Jobs in LA at a copper titans compound during their early days of computer innovation.
I had to leave toward the end of the day so did not get to see the last few presentations. Bravo to an inspirational exchange of great ideas by true thought leaders. Looking forward to the next Tedx Hollywood. Thanks @tedtalks @kenhertz and all sponsors.