Don't tell me!!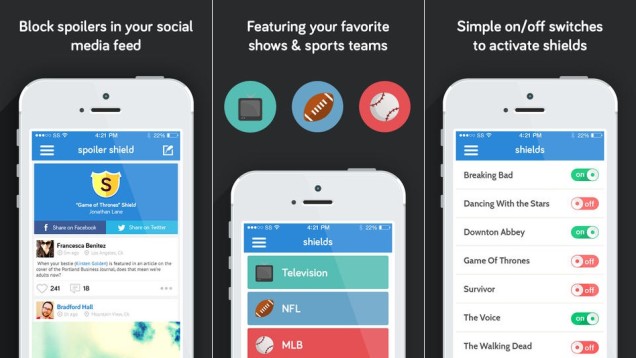 In the olden days (pre-TiVo), my friends and I would use the term "Lamb's Blood" to indicate to each other that we were not caught up with a specific show or didn't yet know the outcome of a sporting event. Simply uttering this term was enough to stifle all conversation on that subject.
"Lamb's Blood" derived from one of the 10 plagues that came down on the Egyptian Pharaoh and caused him to release the Israelites from slavery. Not to get too biblical, but there is nothing like the threat of the slaying of the first born to get someone to change their ways or shut their mouth.
But it doesn't have to be so nasty anymore. We now have the Spoiler Shield app (iOS and Android versions available). You no longer need to hide from social media to avoid finding out prematurely what happens in a show or sporting event that you recorded while the rest of the world watched it in real time. The app blocks content from your Facebook and Twitter feeds that references terms you have selected, including top TV shows and major sports teams. It's a great solution to an age-old problem.
Still, my inner circle will likely continue to use "Lamb's Blood" out of respect. Maybe some of you have your own terms for "Shut up – I haven't seen it yet!" Feel free to share.