2013 Rock Hall Of Fame Ceremony Recap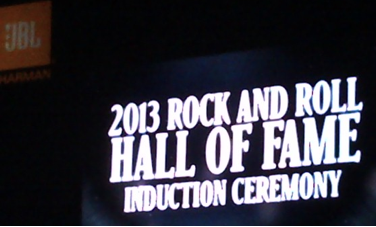 The 2013 @Rock_Hall induction ceremony was a star-studded event celebrating this year's inductees, Albert King, Randy Newman, Lou Adler, Quincy Jones, Public Enemy, Donna Summer, Heart and crowd favorite Rush.  Artists become eligible for entry to the Hall 25 years after the release of their first album, typically only voted on by members however this year they actually allowed the public to cast its vote (http://www.rollingstone.com/music/news/vote-for-the-2013-rock-and-roll-hall-of-fame-inductees-20121004).
As always, @PaulShaffer did a stellar job putting together an all-star house band. To open the night, @TomPetty, Jackson Browne @SongsofJBrowne and @John_Fogerty jammed the @RandyNewman hit "I love L.A." And Don Henley gave a good intro to induct Newman, who was a cool curmudgeon about getting into the fraternity.
Lou Adler, owner of the famous Roxy Theatre @TheRoxy has had a long and influential career in music, producing such acts as Sam Cooke, the Mamas & the Papas and Carole King. He also produced the first Monterey Pop Festival, where artists like Jimi Hendrix and The Who got early US notoriety. Adler is an avid @Lakers fan, so his buddy Jack Nicholson was there to support the cause. @CheechandChong gave a proper stoner introduction, and @Carole­­King sang "So Far Away"—she's still got it!
Another fantastic act was @GaryClarkJr and John Mayer performing "Born Under a Bad Sign." @JohnMayer gave a great tribute to induct blues guitar legend Albert King, whose daughter and granddaughter accepted on his behalf.
@KellyRowland delivered a tribute fit for the late disco queen, Donna Summer (@TheDonnaSummer) along with a touching speech given by Summer's husband.
All followed by an impressive performance by Jennifer Hudson @IAMJHUD, who rocked the crowd out to "Bad Girls" and "Save The Last Dance."
@QuincyDJones, who is now 80 and has almost as many Grammy nominations, as he has years, 79 showed his age a bit but was still hip and quick witted when he shared his personal influences and discussed how music shaped his life. @Oprah introduced him, and @Usher killed with a great rendition of Michael Jackson's "Rock with You."
@SpikeLee and @HarryBelafonte presented the award to @PublicEnemyFTP. Harry looked great and seemly heckled Quincy for grabbing a pole for walking assistance as Harry himself walked with a cane. Flava Flav rambled for way too long, making little to no sense, while @MrChuckD waited patiently for his turn to share his thoughts. A great jam session of "Fight the Power" and "Bring the Noise" brought the house down!
Heart @OfficialHeart was inducted by fellow Seattle rocker @ChrisCornell. They played "Barracuda" with Jerry Cantrell of @AliceinChains and Mike McCready from @PearlJam.
The main event was indeed the long overdue induction of Rush @RushTheBand, who received great intro praise from @FooFighters, Dave Grohl and Hawkins. The trio then played amazing versions of "Tom Sawyer" and "The Spirit of Radio".
Dave Grohl, Tom Morello, John Fogerty, Gary Clark Jr., Heart, Chris Cornell, Rush, Chuck D and Public Enemy among others were all rockin the Clapton version of "Crossroads" to complete the night.
It was a great night overall in L.A. Those of you who haven't been to the actual @Rock_Hall in Cleveland should check it out – it's worth it for the cool I.M. Pei-designed building alone. The ceremony event will air on @HBO May 18, 2013.