Seasonal Content Works, Make It, Use It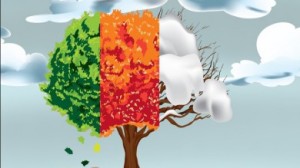 This is the time of year when you should have an arsenal of seasonal content at your disposal. Right now, people are spending a lot of time online researching Halloween costumes; soon it'll be Thanksgiving recipes, then holiday gifts. Marketers should be taking advantage of all that online activity.
We know that seasonal content works, from producing higher video engagement rates to increased email open rates, yet many marketers don't plan far enough in advance to take advantage of low-hanging seasonal fruit. Many brands don't even have a documented content strategy (50% for B2C and 48% for B2B marketers), which is an essential component to any marketing strategy implementing best practices.
Seasonal content is not just for Black Friday or Cyber Monday and e-commerce businesses but also for any company looking to ride the holiday wave. A Marketing Profs infographic, 2014 Holiday Social Marketing Trends, states that 67% of marketers will spend more on social during the holiday season than they did last year. Your editorial calendar should factor in seasonal content, making it easier for the social media team to promote this content versus having to recycle the same stuff everyone else on the web uses. Promotion is also a key to success with seasonal content; aside from organic outreach efforts (which helps with increased engagement), a paid media plan is essential to get the content exposed.
You should develop your content at the very least a few months before the holidays arrive. That means next year start planning and producing in the summer for the fall and winter holidays. This gives enough time to spot trends. Additionally, make sure to optimize the content for search, including the use of hashtags on tweets and Instagram; alt tags for Pinterest descriptions; VSEO for videos; and, of course, keywords throughout. Then share it and track it to see what performs best.