YouTube Video Views:
Video is the most engaging form of marketing today and YouTube is the go-to marketing channel for online video content.  With over 100 hours of video being uploaded to YouTube every minute, it's no longer enough to simply create a great piece of social content.  You must have a strategy in place so your audience can effectively discover your video and share it with their friends, optimizing the chances of 'viral' spread.  Our viral marketing platform distributes and socializes video driving the maximum amount of targeted views and social shares for YouTube.
How do we do it?
Our team starts by building a social profile for your target audience.  To maximize the chances that people become ambassadors for your brand, you first must understand how your target demo consumes, talks about, and shares information within your specific vertical.  We then create a custom media mix to place your video in channels where consumers are most likely to view, share, and talk about your content.
We overlay your video with custom sharing capabilities and seed content via a proprietary network of relevant blogs, editorials, social games, influencers, and high-traffic social channels.  By placing your video off YouTube in channels where people are already consuming content we're able to drive the maximum amount of views, shares, and engagement.  Brand safety is our number one focus and our network is vetted and consistently monitored to ensure only top quality placement for your video content.  All views display on the YouTube counter and we're able to customize your video for lead capture and click-thru's.
Video Player Example: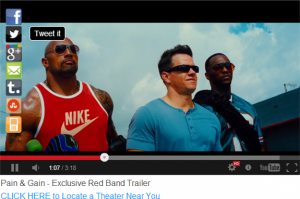 Our viral marketing platform is the first to optimize for earned media in real-time.  Once your video is distributed, we're able to identify and measure placements that are delivering the most social buzz for your content.  You'll have access to a campaign dashboard where you're able to watch as targeted views, shares, and social conversations happen in real-time.
Dashboard Example: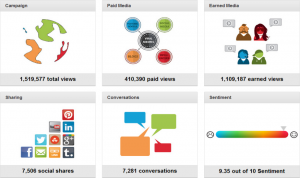 We only believe in user-initiated views, and charge on a cost per view basis.  Our viral distribution model and platform enable us to deliver the highest rates of earned media in the industry which drives down the cost you pay every time a potential customer watches your video.
For more information about our YouTube video seeding and engagement services contact Media Needle.