The World of Social Media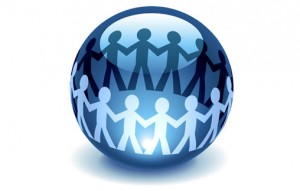 With 2011 fast approaching, it is time for a social media recap of 2010, global-style. This was the year that Facebook took over the globe, and we end the year with almost 600 million users around the world. While Facebook might be the most popular social network, however, it certainly isn't the only one with worldwide appeal.
Italian blogger Vincenzo Cosenza has, for the second time, published a visual map that portrays the most popular social networks around the world. The map is based on the most recent traffic data (December 2010) as measured by Alexa & Google Trends for Websites.
According to Cosenza, since June of this year, Facebook has "stolen" important nations from previously strong competitors, so much so that 115 out of 132 countries analyzed name Facebook as their market leader. Notably, Hungary, Poland, and even Mongolia have switched over from local strongholds to the global site.
We're also seeing a rise of interest in Twitter and not surprisingly, in LinkedIn. While Facebook spans generations, however, Twitter has previously been identified as a "younger" social networking tool. Its growth against MySpace in Australia, Germany, Italy and Canada, then, doesn't do much to prove that Twitter has gained the all-ages following it needs to compete with Facebook in global market domination.
Twitter's appeal is undeniable: The visibility of its most frequent users, celebrities, excites "normal" users. Then, even for non-celebrity tweeters, a sense of voyeurism continues to remain with the site. The site is more energetic and fast-paced than MySpace, and while "tweets" can give away crucial information about participants, the site isn't as sleazy as Myspace was in its heyday.
LinkedIn's rise was inevitable. Why wouldn't other countries jump to embrace a site that provides free networking in a career-oriented atmosphere? LinkedIn gives employers the benefit of screening employees before they even request an interview and in this way, it tightens up the hiring process. It also gives employees the chance to present themselves in a professional manner online, and countries like Australia, Canada, and the UK have embraced this.
Ultimately, while Facebook, Twitter and MySpace continue to dominate most of the world's social networking market, there is tremendous room for growth in the new media sector.
New Media expert Brian Solis breaks down social web involvement by country, and the results prove that each country has a unique dynamic within their social networks.
17.6 million Americans blog, compared to the Netherlands 1.3 million and China's 89.7 million. Are these numbers surprising to you?