The Opposite of Success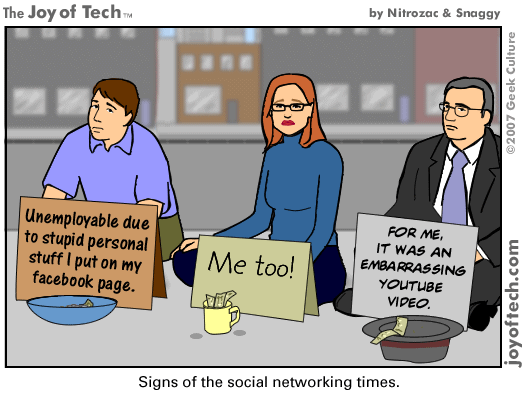 In our last blog, we discussed social media success stories and what it takes to run a successful social media campaign. For every great social media campaign, however, there are multiple failures. Whether this is due to poor use of assets, a marketing screw up, misuse of celebrity or a lack of fan interaction, we can learn as much from these disappointments as we can from the well-executed promotions.
This year's Academy Awards made well documented use of social media; specifically, host James Franco joined Twitter in early February and was a pro-tweeter by the time the show went live. He live-tweeted behind-the-scenes moments that let viewers feel like celebrities, and he took a video while walking out on stage and then streamed it to his fans. Twitter peaked just after the Oscars' open with approximately 10,000 tweets/minute— 1.8 million overall. This was social media at its best.
At its worst? This is 2011, and the only way the actual awards show integrated social media was through James Franco. Most of the effort was made by him, and while his tweets and backstage glimpses were fun and successful, imagine the difference that would have been made if this had been incorporated by the Academy itself.
Another social media flop: Fashion brand Cheap Monday has a plethora of social media assets, but only a few of them appear to be functioning. Tip: If you're going to offer your fans social media outlets to explore, make sure they work. No one wants to check out pre-written tweets that consist of only a URL, or blindly search for a Facebook page that is named something different than your brand (in this case, the brand is "Cheap Monday" and the page is under "Cheap Mondays." This difference may seem negligible, but under a Facebook search, this could be detrimental).
Although dated, Ad Age described a classic social media fail: The Chevy Tahoe  campaign of 2006, run by GM. The campaign was meant to tie in to the television show The Apprentice, and it allowed regular folks at home to create their own Chevy Tahoe ads. The higher-ups at the company failed to anticipate the negative reaction they'd receive to their gas-guzzling car at a time of climbing oil prices and the war in Iraq. They were met with harsh language and unbridled anger, and while GM denied their social media fail, the company went into bankruptcy a few years later.
Among some of last year's losing social media moves were: Starbucks' social media nightmare in Hungary, Dr. Pepper's status-takeover campaign on Facebook , Kenneth Cole's off-color remarks about Egypt , and CVS_Cares' locked twitter account  More snafus here.
In the world of social media, especially since internet users are more savvy and aware than ever before, every move is noticed and scrutinized. Here are some ways to avoid making some of these gaffes:
Adapt to your social media environment: Take Twitter for example. Don't over-intellectualize; you have 140 characters, so get to the point with short words and great content.
Understand ROI: The more you pay, the better the…payoff will be. Yes, you will have to pay for marketing even in social media; get rid of the mindset that all social media marketing is free marketing.
Engage with your audience: These are the people who will make your campaign a success or a failure, and you have the chance to interact with them, to answer their questions, to ask them for feedback. Make use of that.
Get Formal: Social media is less formal than traditional media in some aspects, but that does not mean this isn't still business. Treat your social media assets professionally.
Get Exciting: Bland social media is the worst; you will depress your audience and lose them. Plan ahead, hire a dynamic community manager and make an effort.
More moves to avoid here. And remember, without failure, success wouldn't shine so brightly.