Rick Bakas Talks ROI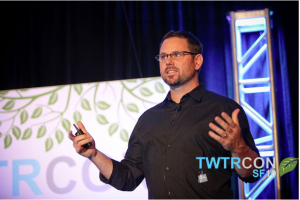 This week, we begin our series of interviews with social media superstars. First up is author, certified Sommelier and brand strategist Rick Bakas, of Bakas Media in San Francisco. As the first Director of Social Media in the wine industry, Bakas has influenced new ideas and new concepts that connect wineries to new consumers through tweet-up tours and global online wine tastings.  He specializes in translating personal and corporate brands to new media. This year, Bakas will be traveling the world educating businesses on how to build their brands online, stopping in cities including NY, London, Mexico, Sydney, Los Angeles, Vancouver, Munich and Napa, and speaking at the Inbound Marketing Summit in San Francisco.
We asked him about social media ROI, impact and more:
What are your thoughts about the ROI of social media? In my opinion, "Return on Investment" is an outdated term based on the old way of doing things.  New Media is just that—it's new, which means we need to redefine what "return" looks like.  The return we get in this new world takes on a new form we haven't seen before.
I like to refer to it as ROA, or Return on Attention because the real magic happens when we're able to get someone's attention online and convert that attention into action.  We're increasingly overwhelmed with more technology and are bombarded daily with emails, text messages, tweets, blog posts, YouTube videos, Facebook posts and all the other stuff in addition to the overstimulation from traditional media.  We're spending more time online than watching television so that's where people's attention is.
Going forward, savvy marketers will be able to nurture a healthy relationship online, so that at any given moment they can get someone's attention no matter what channel they're sending the message through.  The true value is getting that mind share, even if for a moment and affecting a behavior such as a purchase.  Where traditional media and new media share a commonality is Reach.  In traditional media you pay for someone else's reach for impressions.  With new media you can create your own reach.
Are marketers that promise ROI setting expectations that cannot be delivered solely by social measures? Yes.  In the previous answer I mentioned "return" taking on a new form we haven't seen before.  There's a new factor in determining "return" called Time.  Time is a multiplier now because digital content lives for a longer time. One single YouTube video could influence someone's behavior in 2011 or 2016.
Marketers who promise anything related to social media are probably desperately trying to position themselves as experts out of a survival instinct, and are telling clients what they need to hear.  No one can control digital content over time, nor can they guarantee how much attention they'll be able to capture online.
Is there a difference between ROI or "impact"? If so, is one more important? Return on Investment, or as I call it Return on Attention, shares something in common with Impact.  It comes down to Reach.
The number of impressions has a direct correlation to affecting someone's behavior.  In traditional media you rely on someone else's reach like magazine readership or television viewers.  In new media you can create your own reach.  Either way you're going for impact from impressions.  The real magic happens when you leverage both at the same time.
Does a consultant or agency need an ROI mindset when they work with a client?  If so, how do you find out? A consultant needs to have their client's interest in mind.  And because their client is most likely a business, then yes, working towards ROA should be the driving force.
When we work with client partners, we turn their sales funnel into an hourglass.  We all know the sales funnel is about getting people to an action like a purchase, but the real beauty of new media adds a second half of the equation to the mix.
Ultimately, each client partner is going to have different objectives, so it's good to start with their endgame and work backwards to build in the systems needed to accomplish the result.
For more information on Rick Bakas, head to his website.