Which Platform Do I Get On? Part I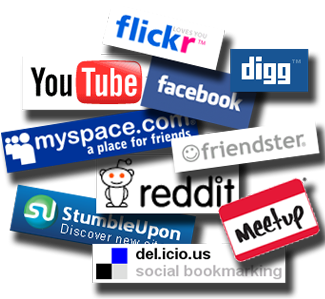 *This is the first of a two-part series on social media platforms.
The key to navigating the ever-growing world of social media is to divide and conquer. With three main types of social media platforms– those that help you network, the ones that help you promote, and those that help you share- ease of navigation is a necessity.
A platform that allows you to network, like Facebook or LinkedIn, is the most commonly used. Whether you're interested in getting back in touch with an old flame or making new contacts in the business world, using a social networking site is the easiest way to do so.
Promoting platforms, like YouTube or personal blogs, allow you to do just that: promote. Oftentimes, it isn't even clear what someone is promoting; personal-style blogs, for example, seem to be promoting nothing more than daily outfits. Upon closer look, however, many of these blogs feature the latest fashions, both in clothing form and through ads, and bloggers can be compensated, whether with money or gifts of clothing, etc.
Lastly, we have platforms that allow you to share, like Digg and Delicious. These platforms operate through closely-knit communities that are not easy to infiltrate. Try to get voted up on Digg and you'll realize instantly that it takes months of interaction with other users to build up the trust needed to share within the community
If you're a networker and you like sites like Twitter and LinkedIn, check out Quora. This platform is a sort of best-of the Q&A platform format; a combination of LinkedIn Answers or Yahoo Answers with the look, feel and simplicity of Twitter.
Also check out Color. The platform uses location-based services like GPS to allow users to share the photos on their handsets with people—both strangers and friends—nearby (within a 150-foot radius of a user). Users can also create albums and social groups for photos from a specific event, and can also comment on photos and shoot video.
If you like YouTube and WordPress, try Instagram. This is heaven for tech-junkies and social networking addicts. Snap a photo with your iPhone and then edit the photo as you like, choosing a filter to transform the look and feel. Then, send to Facebook, Twitter or Flickr – it's photo sharing, reinvented.
If you like sites like Delicious because you enjoy the thrill of sharing sites with like-minded web users, try a social shopping experience in 2011. Sites like Svpply and Polyvore allow users to create inspiration boards, generate user feedback, and ultimately, mimic a real-time shopping experience, minus the long lines and annoying interactions.
Next week, we'll discuss some more business-oriented social platforms, like Wildfire and Buddy Media.